Meet Rebecca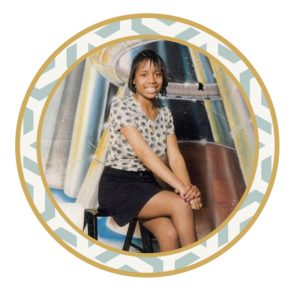 Growing up my parents struggled with chronic unemployment, substance abuse, and homelessness. My family moved every 6 months and at times we lived in houses with no running water, lights, or heat. I started working when I was 14 years old (check me out in the 8th grade) and made a promise to myself that someday I would work to make sure others didn't have to experience poverty the way we did. 
I fell in love with politics when I was just 19 years old. Our city had just elected a 31 year old mayor and for the first time I saw myself in an elected official. I quickly realized though that I didn't have a last name people knew and I didn't come from a wealthy family. I decided then that someday I would move to Washington, DC to learn from the best people in politics and bring that experience back to Detroit. And that's exactly what I did.
For the next 6 years I dedicated my life and career to fighting for social justice and to developing leaders to create real change in their communities. Year after year I would encourage young people to leave Washington and to go home to their communities and realized that I needed to take my own advice. I was encouraging other people to do something I hadn't found the courage to do.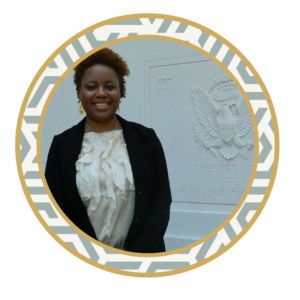 After moving home my city was in worse shape that before I left. Our streetlights weren't on, trash wasn't getting picked up and the city was on the verge of bankruptcy. My family was also further in poverty than when I left. I knew I had two options: complain about what was wrong or do something about it.
I decided to run for state representative to represent the neighborhood I grew up in. People told me that I was too young, that it was someone else's seat, and that I should wait my turn.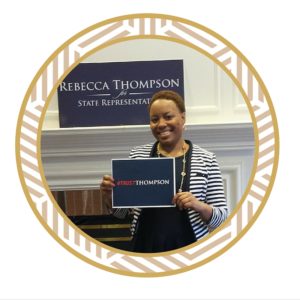 I knew that raising money would be the best way for people to take my candidacy seriously. On our first campaign finance report I outraised my incumbent opponent by 3 to 1 raising over $20,000 in just 90 days from hundreds of grassroots donors across the country. Over the next nine months we knocked on over 18,000 doors; got local, state and national endorsements, and raised over $60,000. And on Election Day I lost by just 6 votes. Yup, I said 6 votes.
I was devastated. Despite having been through nearly every candidate training program in the country (and even running one) I still wasn't prepared. That's why I created this community. I want to women, especially women of color, everything I learned the hard way so they can run and win the first time.
No matter what people have told you – it's your time. It's not a coincidence that you're here. You're in the right place if:
– You're ready to finally fulfill your purpose and run for office
– You're ready to stand in your power and stop playing small
– You're ready to use your black girl magic to change the world
My "Why"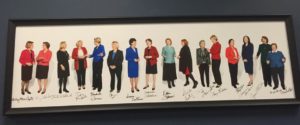 In the United States 91% of elected officials are white, 71% are men, and 65% are white men (currently there's not a single black woman in the United States Senate). One of my personal mantras is "you can't be what you can't see" (the other is do epic shit) and I'm on a  personal mission to change the face of power by informing, inspiring and most importantly – supporting more young people, LGBTQ people, women, and women of color – especially black women – to run for office at the state and local level so they can fulfill their purpose and change the world. I'm creating the community I needed when I was running for office and my dream is to build a tribe of women around the world who redefine what power looks like.
Official Bio
Rebecca Thompson is a digital nomad; nationally renowned candidacy coach; former candidate for state representative, and host of the "Changing the Face of Power Podcast".
Rebecca's mission (and life's work) is to change the face of power by informing, inspiring, and supporting black women to run for elected office so they can fulfill their purpose and change the world.
She has traveled the world training candidates to run for elected office and is a graduate of the Women's Campaign School at Yale, EMILY'S List, VoteRunLead and numerous other leadership programs. Rebecca is a national trainer for VoteRunLead and ElectHer, which trains young women to run for elected office. She also serves on the National Leadership Team of Political Parity, a bipartisan group of national women's organizations dedicated to getting more women elected to office.
Rebecca was inspired to create Changing the Face of Power – the first and only podcast in the country dedicated to inspiring black women to run for office – after losing her election for state representative by just 6 votes on Election Day. She wants to teach women candidates everything she learned the hard way so they can run and win the first time. Rebecca is also a digital nomad who is spending a year traveling the world living in 12 countries across Asia, Europe, and South America in 12 months.
You can reach Rebecca at Rebecca@rebeccamthompson.com
Meet Our Team
Krystal Leaphart, Virtual Assistant 
Krystal Leaphart serves as a Virtual Assistant for Rebecca Thompson International. Krystal is a passionate leader and emerging champion for racial justice. Also originally from Detroit she moved to Washington, DC to pursue a degree in sociology from Howard University. Krystal was an active leader on campus and was involved with numerous organizations including Women As Change Agents, ElectHer, Bethune Annex Debate Team and as President of the Howard University Chapter NAACP. She has served as the Chief of Staff for IMPACT, a nonprofit that fosters civic engagement, political involvement, and economic empowerment for young professionals of color.
You can reach Krystal at krystal@rebeccamthompson.com
Marica Wright, Virtual Assistant 


Marica Wright serves as a Virtual Assistant for Rebecca Thompson International. Marica is a former appointee of the Obama administration to the Department of Commerce, in the Office of the Secretary of Commerce. Previously Marica served as White House Intern in the Office of Presidential Correspondence. Marica is a Magna Cum Laude, Phi Beta Kappa graduate of Spelman College where she earned a Bachelor of Arts Degree in Political Science. 
You can reach Marica at marica@rebeccamthompson.com